Happy New Year!
I have been very behind on my sewing lately. Since August I have completed maybe one or two makes and one of them was for my boyfriends mum! I bought a house in August ( our first home purchase) and we have completely gutted and are in the process of renovating the whole house. As you can image sewing has unfortunately taken a little backseat.
Taking a sewing break has actually been a blessing in disguise. Not only has it made me realise I buy WAY too much fabric, but I am also making clothes that no longer suit my wardrobe. Like most people, I am a sucker for pretty dresses, which in all honesty do not fit my style on a daily basis. Therefore my plans for Make Nine in 2019 will be mainly focussed around the fabric and patterns I already have as aswell as clear gaps that are in my wardrobe.
My Make Nine list may be a little on the boring side this year, however, I am hoping that this post will allow me to fully think about how I can use my fabric stash and create a stylish, yet practical wardrobe.
So here it goes! My Make Nine for 2019:
1)The Rachel Shirt, Seamwork patterns
I wear a lot of shirts at work, and I love the relaxed look of this pattern and the cute detail to the back of it. It was actually a toss-up between the Rachel shirt and the Granville Shirt by Sewaholic Patterns. If the pattern does not work out, I will try the Granville one. However, I am hoping the shirt will fit right into my work wardrobe and I want to make it in a number of different fabrics.
Fabric Stash busting: I have already cut out the shirt in a lovely stripy blue shirting fabric, so watch this space!
2: Cressida Skirt, Jennifer Lauren Handmade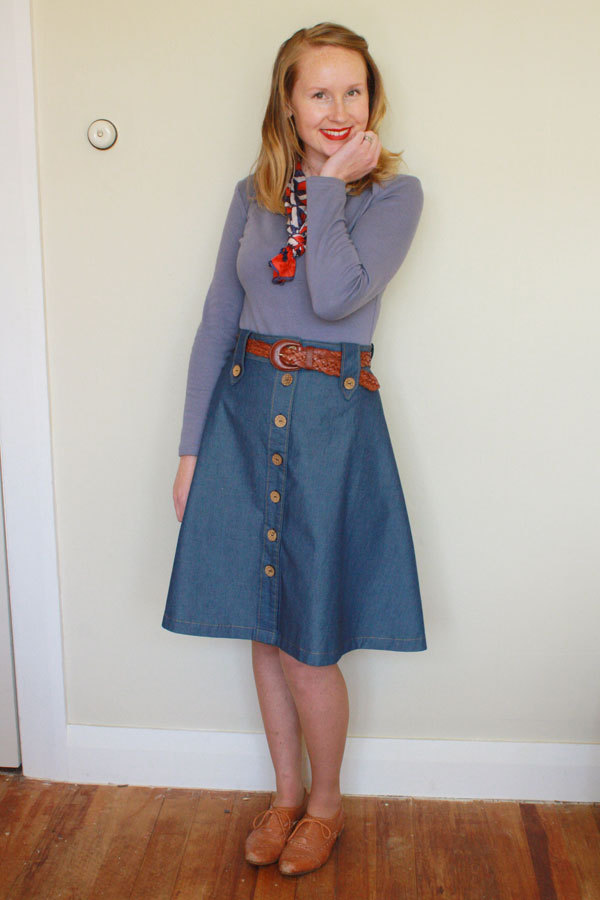 Once again Sewaholic patterns came in a close second with the Cressida Skirt. I absolutely love how the Cressida skirt has the button placket down the centre front as well as belt loops. The pattern looks stunning and I am sure it will flatter my body shape well. As it is still cold over here in the UK, I want to make the skirt out of woolen suiting fabric, which I am hoping will fit right into my wardrobe.
3: Butterick Dress b6284
I know I said earlier that I have too many pretty dresses in my wardrobe right now, but I just couldn't refuse this one! I absolutely love the gathers at the front and the neckline of this dress. This has been on my list for quite a while and I kept putting it off as I have seen some bad reviews of this pattern. I am hoping to reduce the bulk at the waistline to create a more slender silhouette.
4: Camille Trousers, Sew Over It
The Camille Trousers have been on my wishlist ever since the ebook came out! I fell in love with the high waisted style of them and I think they would be perfect for workwear. I am a big fan of high waisted and wide legged trousers, every since I bought a pair of RTW trousers from HOBBS I have been on the lookout for a similar pattern. I have already made a toil for this pattern as it will be the first every pair of trousers I will make! I am still nervous about it so I have cut out another wearable toil just in case!
5: Lacey Dress, Style Arc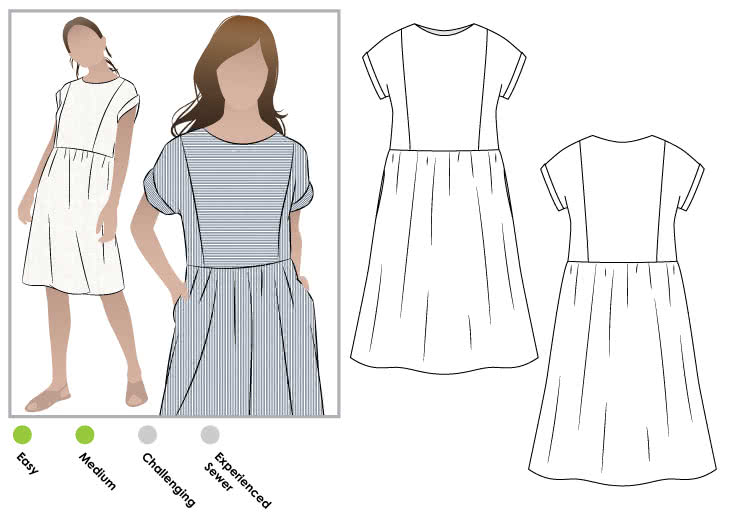 The Lacey dress is the perfect loose-fitting woven dress for days when you just don't know what to wear. Last year I noticed that I am missing stylish, yet casual clothes that I can "chuck" on when I am in a rush. I want my clothes to work across my workwear and casual wardrobe and I think the Lacey dress is just the ticket!
6: Carolyn Pyjamas, Closet Case Patterns
I made the Carolyn Pyjamas for my boyfriend's mum over Christmas, which turned out great! I particularly liked the piping and the pockets. The instructions were great and the fit was fantastic! Therefore I couldn't help but put the Carolyn Pyjamas on my MakeNine list this year. I aim to make the summer short version as I have too many winter pyjamas already!
7: Gable Dress, Jennifer Lauren Handmade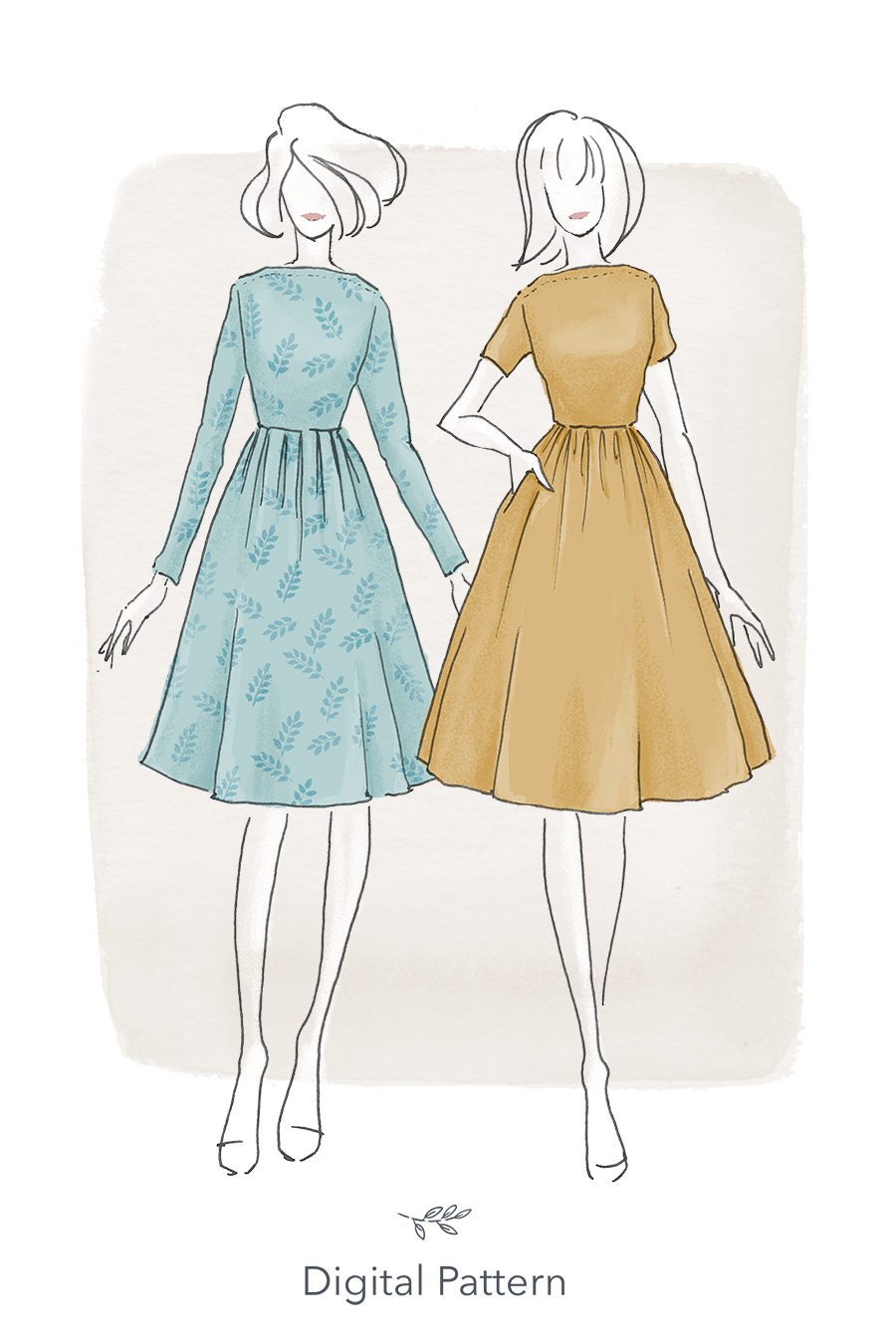 I have made the Moneta Dress by Colette Patterns quite a few times now and I have loved every single one of them. The dress is great for times when you just don't know what to wear and I love the fact it works for work as well. However recently I have fallen out of love with the pattern, I think it might have been a case of a pattern overkill for me. Therefore I wanted to find a pattern that is similar in terms of knit but has that extra bit to it. I think the Gable Dress is the one. Usually, I can't help but fall in love with Jennifer Lauren Handmade's pattern as her illustrations are beautiful, but the Gable dress has really stood out for me. I love the neckline, I just need to find the perfect fabric for it. As a result, I think this will be a latter make in the year as I want to focus on using up my stash, which consists mainly of woven fabric.
8: Vogue – V9258
I know I have too many summer tops in my wardrobe, however, I have been dying to try out this pattern for quite some time. I love the trapeze style of the top and think it will be very flattering with some chino trousers during the warmer months. I may pull in some of the ease as I think it can maybe look to tent-like, but we will see. I have some lovely gingham fabric this will be perfect for!
9: Penny Dress, Sew Over It
The Penny dress has been cut out from my fabric stash for over a year now! I had big plans for this dress last year, but it got pushed to the back of my mind when we bought the house. I am hoping to dig it out and sew up a lovely dress in time for spring. The fabric is a beautiful navy polka-dot crepe I have been hoarding for quite some time!
So that's it for Make Nine 2019! What do you think of my choices?
Katherine x